Learn the basics of PowerPoint they said? Since you've landed on this site, you're most likely here to get yourself some basic PowerPoint skills. In this article, we will go through the most important areas to learn.
To learn the basics of PowerPoint, there are some basic functions and skills that you should manage. In summary, you need to deal with the following areas in order to say you know the basics of PowerPoint:
Create a presentation
Add and modify texts
Add slides, tables, objects, and images
Manage animations and transitions
Start a slideshow
Background
Do you think PowerPoint is difficult? Then you are not alone, for many, PowerPoint is a necessary evil that takes a lot of time. However, the fact is that anyone can learn PowerPoint and be good at it. In this article, we will talk about the basics and guide you through the most important features. Once you have mastered these you will be much faster and be able to create much nicer presentations. Here we go!
Two Tips Along the Way
Save Often: Do this by clicking File → Save, clicking on the save icon in the upper left corner, or by clicking ctrl + s (PC) cmd + s (Mac).
Undo an Action: If you happen to do something you need to undo, click the arrow at the top left, or click ctrl + z (PC), or cmd + z (Mac).
The Ribbon & Tabs in PowerPoint
Like all other Microsoft Office applications (you may have used Microsoft Word before?), there is a ribbon that contains about ten different tabs. Each tab has a variety of features that may seem overwhelming, but don't worry about it! We will not go through all the tabs, just the most fundamental ones. Today we will talk about the most important parts that you will learn in no time!
However, here comes a brief description of all the tabs, so you have a little check on these before we delve into the details.
File: The major features of this tab are to create a new presentation, open an already existing presentation, save, print presentation, and share slide shows.
Home: Here you will find a variety of functions such as creating a new slide, changing the font and text size, and changing paragraph settings.
Insert: Here you can insert slides, tables, different types of images and illustrations, comments, links and different types of other media.
Design: Here you can be creative and choose different themes, edit layouts for slides, even get suggestions of PowerPoint on different design ideas.
Transitions: Here you can work on transitions, i.e. what happens when you go from one slide to another.
Animations: Animate different elements, maybe a text box should fly in from the right, or maybe you want different pieces of text to appear when you click the mouse (ideal for different lists).
Slide Show: Start your presentation and choose how it will appear if you have multiple monitors, for example.
Review: Use proofreading tools, choose which language you want to use, or add comments to remember something, or leave a comment to someone you work within the presentation.
View: A bit more advanced settings for working with different macros, change the presentation view, etc. This is not something you need to worry about as a basic user.
Help: This is an underrated part of PowerPoint. Here you can search for help and usually you will find answers regarding the basics of PowerPoint.
To Create a PowerPoint Presentation
Now we have created an overview of the functions in PowerPoint, and now we will apply some of these and build a basic but good presentation.
When you start PowerPoint, a menu often pops up where you get a few choices. Here you select Blank Presentation. If this menu does not show up for you, go to File, New, and then Blank Presentation.
Now a new presentation has been created and in addition an empty slide. This slide can be good to use as a Title Slide, i.e. a slide where you put a heading for your presentation
Congratulations! You have now created a presentation, now it is time to fill it with content.
Create a New Slide and Fill it With Content
Sweet, you are one step closer to master the basics of PowerPoint! Now you have a new presentation and a title slide, now it's time to create your first own slide. If you don't already have Home Tab checked, do it. Now click on New Slide. Now you'll see a few different designs, choose the one you think is the best or is the best suited for your purpose.
Here you can create a heading by editing the text. You can also find the Font Section and change the size and font. Remember not to use too small text as it may be difficult for some people to read.
Text Boxes & Shapes
Perfect, now you have a nice Title Slide, a brand-new Slide that you created yourself. Now it's time to give the slide a little more life by adding its own text box and shape. Let's start by adding a new text box.
Navigate to the Insert Tab and then look a bit to the right where you see the Text Box icon. Click it, then place the box in any place and fill it with text. Bonus Tip: if you think the text box looks boring, right-click on the box you just created, you can choose a fill color.
Now, let's create a shape. Still, on the Insert Tab, navigate to the shapes icon and click it. Here you get a lot of different suggestions on shapes to incorporate into the presentation. Choose one that you think is stylish and place it out.
If you click on the object, you can choose to resize, rotate, or change the dimensions. The same goes for the text box if you want to change color right click on the Fill icon and select a color that you think looks good.
If you click on the object, you can choose to resize, rotate, or change the dimensions. The same goes for the text box if you want to change color right click on the Fill icon and select a color that you think looks good.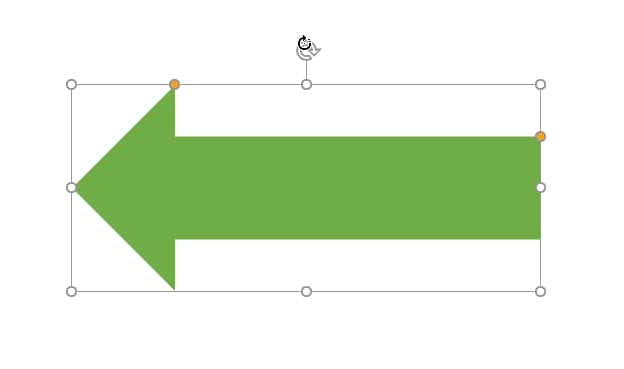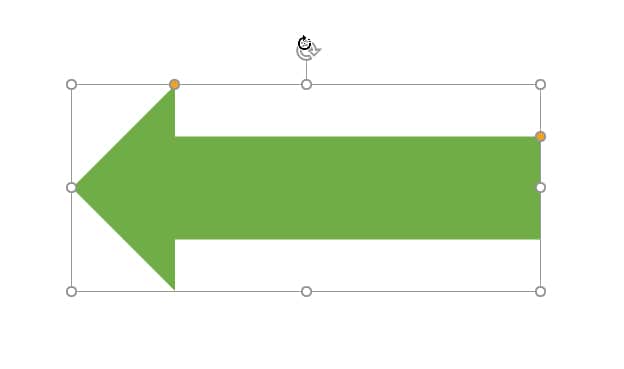 Transitions
Now it starts to look nice! If you navigate to Slide Show Tab or click F5, you can see what the presentation will look like. You navigate between your slides with the arrow keys, space bar, or click the mouse. Test this. Surely the transitions between slides feel a little boring. Let's fix this now!
Select the second slide, click on the Transitions tab. Here you will find a few different options for transitions, click through the different ones and choose one that you think is good. Keep in mind that different types of transitions will fit better or worse in different situations. A super cool transition with lots of effects might fit very well in the classroom, but less well at a board meeting.
Animations
Surely, we have all seen PowerPoint presentation with different objects popping up in lots of cool ways and always wondered how to do this? It's a lot easier than you think – let's make some animations.
We chose to insert an arrow into the slide to emphasize the text. To further emphasize this, it would have been nice if the arrow came in after the text – let's fix this.
Navigate to the Animations Tab. Now you may notice that this looks almost the same as the Transitions Tab, it's because it works almost the same. Instead of selecting the slide you want to create a transition to, select the object or text box that you want to animate. Click on the object you want to animate, and then test different types of animations in the Animations Pane. Choose the one that suits you best.
In my case, I use the animation called Fly In. If you look at the far left you see an icon called Preview, click on this and you can see how the animation will appear in the slide. In my case, the arrow flies in from the bottom, which doesn't suit me so well when the arrow points to the text. However, this is easily fixed. On the right-hand side of all the animation styles, there is an icon called Effect Options. If we click on this, we can choose how the object should behave.
Start the Slide Show
There you go! Now we have built a basic, but very good PowerPoint slide. Now just follow the same principle for the rest of the slides you need to include in your presentation.
When you are satisfied, it is time to present. As we mentioned earlier, you can do this in slightly different ways. Among other things, you can click F5 on your keyboard or navigate to the Slide Show Tab and click From Beginning on the far left-hand side, then your nice PowerPoint presentation will start.
Summary
You have now built a PowerPoint presentation and learned the basics of PowerPoint – good job and congratulations! Getting good at PowerPoint takes a while, but practice gives skill. In fact, you will come very far with the knowledge gained from this article.
Stay tuned for more PowerPoint and presentation tips and articles and remember to post a comment and share this article if you like it. Your support is everything to us!
Did you know, you can create your own PowerPoint presentation online at Office.com