Addning music to PowerPoint slideshow? In this article I will explain how to add music to a slideshow in PowerPoint. This is simple, but there are some pitfalls in processes. Furthermore, it is not entirely obvious where you can find free music that you can use in your presentation. When you have finished reading this article, you will be an expert at adding music to PowerPoint slideshow.
Before you Consider Adding Music to a PowerPoint Presentation
If you need to add music to the PowerPoint slideshow, so you should do just that. But I want to warn you to use for mucket sound and music in your PowerPoint presentation. Should you use it as a slide show at a trade show, or use it as a "waiting screen" in a live webinar, this is a good idea.
If you intend to use music as background sound when presenting a regular presentation, I ask you to think again and again. Instead of reinforcing your presentation and your message, it can have the opposite effect and focus from the important thing you want to convey.
If you want to convert your PowerPoint presentation to a video or perhaps use it as an ongoing slideshow at a trade show or presentation, then you should add music to the PowerPoint slideshow. It has a great effect and can be done with a few simple maneuvers.
Before we go into basic instructions for adding music to PowerPoint slideshow, I would prefer to give you and a quick overview of where you can get free music for your PowerPoint presentation. These sources are also very useful if you need music for your videos that you upload to YouTube.
Where to Find Free Music for PowerPoint?
Defining what free music is can be a little diffuse at first and not quite obvious when you adding music to PowerPoint slideshow. Be sure to carefully read the terms and rights of the music you use. The music may be completely free to download, but its use may be limited.
The following points may be worth reflecting on before adding the music to your PowerPoint presentation:
Some licenses require a one-time payment, but you still have the freedom to use the music an unlimited number of times; that means I don't pay any sovereignty to the music creator.
Some music licenses indicate that you can use the music anywhere and anytime, but you would need to service the attributes of the creator. In practice, this means that you have to give credit to the author and possibly provide contact details to the person who owns the music.
Some music tracks are 100% allowed to download and use. You don't have to worry about getting a place, and you can even use them for business purposes. You can even use it for other commercial purposes such as reselling the music and making money from it.
To put it simply, you have to read the terms of the website you want to download music tracks from, or for the specific music file. Enough of boring law, below I list some common websites you can download music before adding music to PowerPoint slideshow.
YouTube Audio Library
In my opinion, YouTube Audio Library is by far the best source for downloading music that you can use in your PowerPoint presentation. You can download free music for your presentation and use it. However, it is important to know that some music tracks require that you give written credit to the author.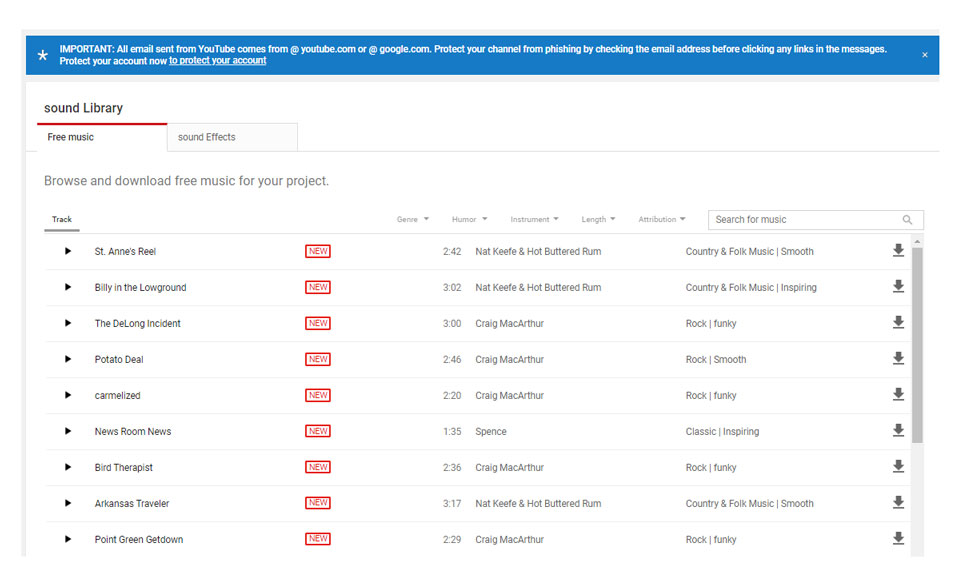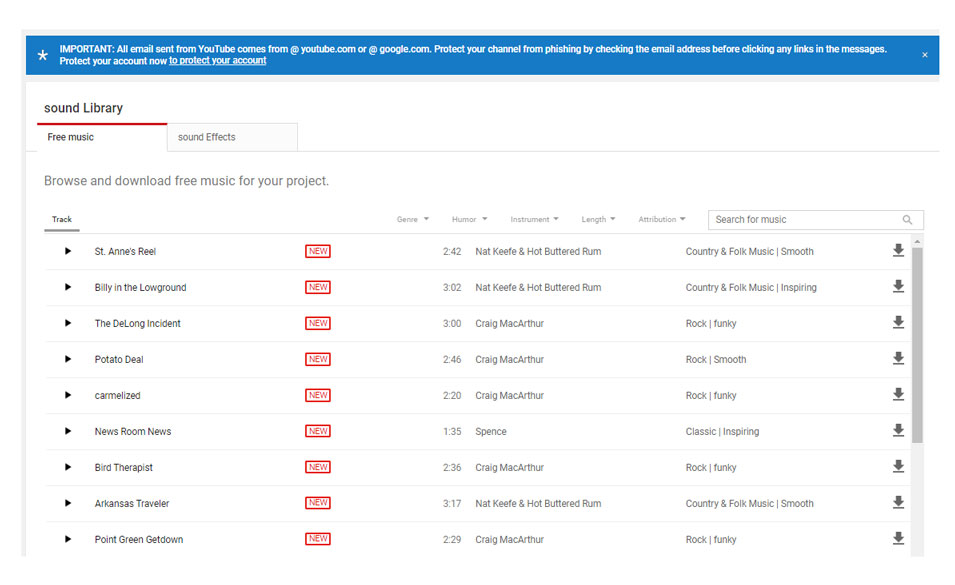 You can easily see if you need to give Attribution or not to the left of the download button. There are two options:" Attribution Required" and" Attribution not Required". Most tracks you do not need to specify Attribution for, but to be on the safe side I always choose the filter: "Attribution not Required":
Shutterstock Music
If you've been on the internet for the last ten years, you probably know Shutterstock. This is by far the biggest source for downloading various types of media, free of charge and against payment. When adding music to PowerPoint slideshow, this is an excellent source. The big disadvantage, however, is that some of the files cost money, but there are plenty of free tracks as well.
It's easy to listen to the tracks and sort by popularity, etc. When adding music to PowerPoint slideshow, it's important to think about context and context. To find suitable tracks for your particular context, I recommend browsing the "Moods" category. Here you will find different genres or moods if you wish.
Story Blocks
Storyblocks are also a very good site for finding different types of music before adding music to PowerPoint slideshow. Something I like about this website is that they have different categories, such as:
Music
Sound Effects
Loops
Collections
I especially like Collections, where you can find music for specific situations. See, for example, the image below. The picture shows the collection "Transition Music and Sounds". This is perfect if you are looking for music or rather sound effects for your PowerPoint presentation.
Bensound
Bensound does not give the same professional impression as those mentioned above. However, here you can still find good music that you can use when adding music to PowerPoint slideshow.
This site is not as good if you are looking for sound effects, for example. However, it is useful if you are looking for music that you want to use as background sound. At Bensound, they divide the audio files by genre, and they have, for example, a category called "Corporate / Pop," which probably contains music that fits your corporate presentation in PowerPoint.
Free Stock Music
The last page I want to tell you about to download free music that you can use in your PowerPoint presentation is free-stock-music. Here are lots of royalty-free music you can use when adding music to PowerPoint slideshow.
This website is straightforward. There are a lot of different filters and choices you can make to find just the music that fits your PowerPoint presentation. As far as I know, all music on this site is royalty-free but still read the documentation carefully before downloading the file.
Free Music Sources, Summary
I think these five web pages should give you a lot of music to use for your PowerPoint presentations. There is, of course, much more – both free music and premium music. If the sources I have listed above are not enough, I recommend you to search for example "Free stock music", "royalty-free music" or similar on Google and you will find thousands of hits.
Just make sure to check the rights to the music carefully and always take it safely before the uncertain to avoid getting into unnecessary disputes.
Okay, since you know where you can get some free music tracks, it's now time to show you how to adding music to PowerPoint slideshow, which was the question that took you here.
The Best Method for Adding Music to PowerPoint
Once you've downloaded and saved your music to your computer, you can choose whether you need to use a music track for the entire presentation or use a track for each image; it's entirely up to you. Here's how to start:
1. Go to Insert> Media> Audio >Sounds on My PC. The dialog, Insert Audio, will then appear. Choose the sound recording you need to use in your PowerPoint presentation. Then, click Insert.
3. When you see the sound symbol in your image, this means that you have successfully weaved your music file PowerPoint into the presentation. If everything went well, it should look like this: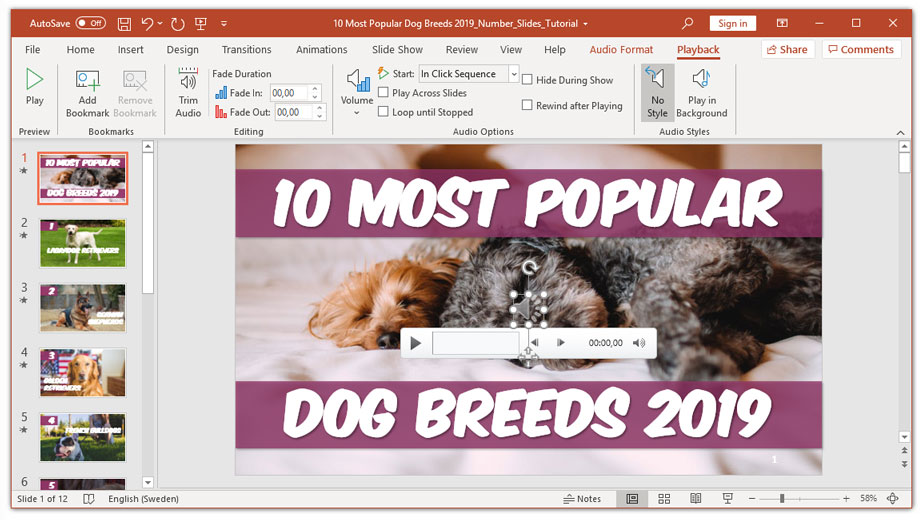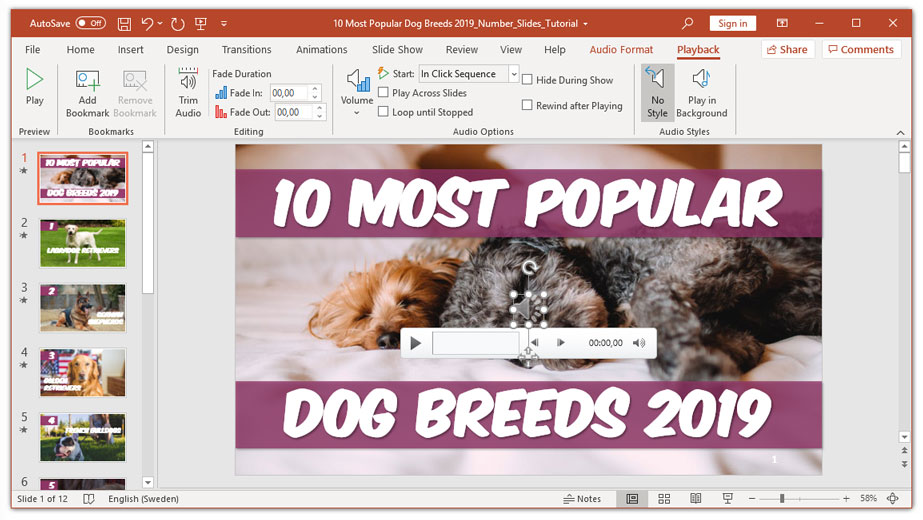 4. If you need to play the music without seeing it for those you are presenting, go to Audio Tools, and click Play. Then click Play in the background. When you do this, default settings will accordingly apply. These are:
Sound recording begins naturally.
All images are played back.
The music will loop until it is stopped.
The sound symbol will be hidden throughout the presentation.
There are various settings that you can change in Audio Tools. For example, you can change the volume (low, medium, high, quiet), you can include a Fade effect, you can crop the sound, including a bookmark, etc.
Embedding Audio or Inserting a Link to Audio?
The method of adding music to PowerPoint slideshow that I have shown you so far is called embedding. This means that the size of the audio recording will be added to the general PowerPoint document size. Thus, if you have a PowerPoint with a file size of 5mb and add an audio file of size 5mb, then the size of your PowerPoint presentation will be doubled.
If file size is a problem for you, for example, if you are going to email your presentation to colleagues, it may be a good idea to link the file instead of embedding it. It's straightforward to do; just follow the steps below:
1. Go to Insert> Sounds> Sounds on my PC.
2. When the Insert Audio pop-up boxes, select your audio as usual and then click the small arrow next to Insert, instead of clicking Insert, click Link to File.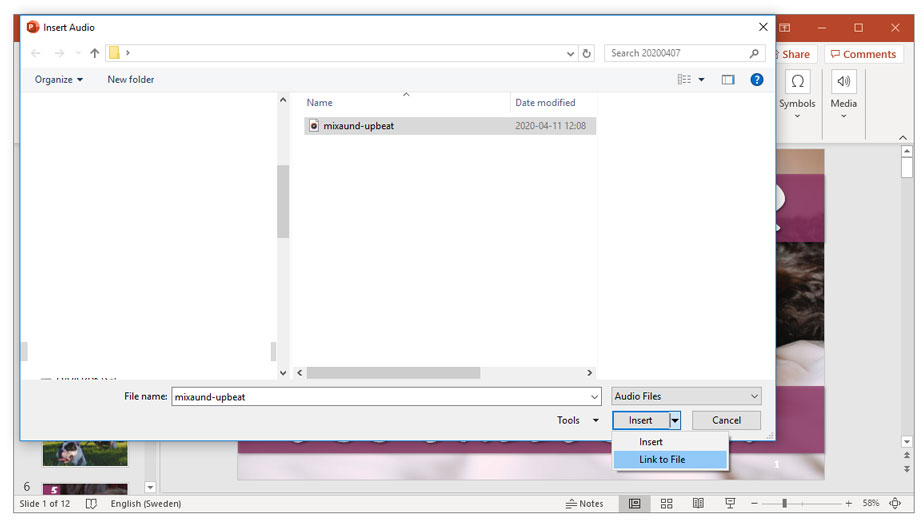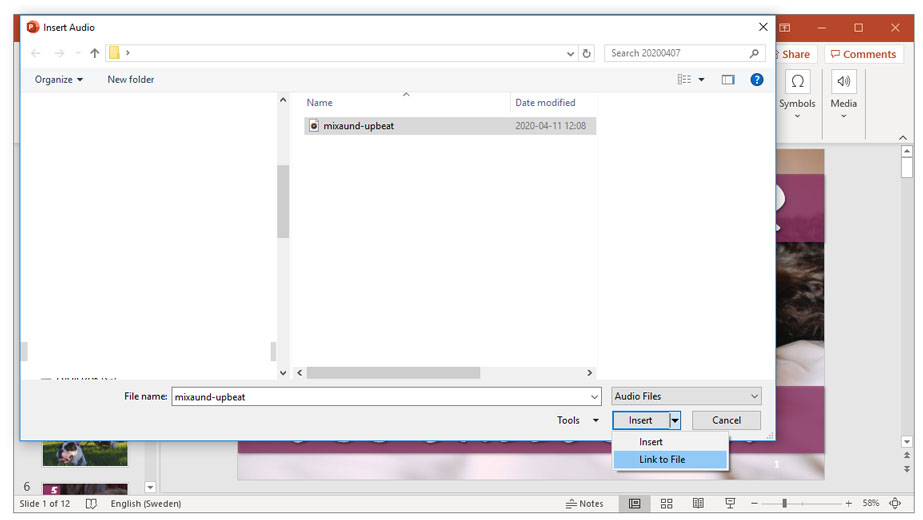 It is not more complicated than that; adding music to PowerPoint slideshow is not by linking the audio file instead of integrating it into your PowerPoint presentation.
Final Words
Adding music to PowerPoint slideshow is useful and very simple, especially if you plan to switch or send the slideshow to video. Just make sure you use music that you have approved to avoid getting into legal conflicts later.