You may think that the only way to present a PowerPoint presentation to your audience is by being in the same room. This is true in a way, but what happens when our audience cannot be in the same place as you? What would you say if I told you that you could record your whole presentation and send it over to your audience?
This is possible when recording audio in PowerPoint! You can make the whole presentation in the comfort of your home or in your office. At the same time, you can speak, and your voice will be attached to your PowerPoint presentation.
Not many people are aware of this super useful feature in PowerPoint, and today I am going to teach you how to record audio in PowerPoint. Probably you will impress your colleagues and your boss when you send them a presentation with audio in PowerPoint.
Why Record Audio in PowerPoint?
If you send the presentation as it is, maybe your audience may just skim through the slides and miss out on some of your important messages. But if you record audio in your presentation, this is less likely to happen.
Furthermore, when making a presentation in real life, you can use rhetoric to strengthen your slides' effects. This is impossible if you just send a slide deck to your audience. But if you learn how to record audio in PowerPoint, you can use your rhetorical skills just as you would in a live context. Well, not all your rhetoric skills since the audience cannot see your body language.
Another great reason you should learn how to record audio in PowerPoint is that it is a great way to practice and evaluate your performance. Try to record your presentation with your speech attached and then watch it. It is a great way to assess yourself and become a better speaker.
Okay, that was a relatively long introduction, but now you may have realized that you have more reasons to learn how to record audio in PowerPoint than you first thought. So, let us learn all about how to record some audio in PowerPoint.
How to Record Audio in PowerPoint Step-by-Step Instructions.
Now, let's jump into this written tutorial of how to record audio in PowerPoint. After reading this, you will know everything you need.
Step 1. Make sure your microphone works.
This is a very important step to make sure your microphone is set up correctly, and it works. Imagine recording a 30-minute presentation in PowerPoint and realize the microphone wasn't working (been there, done that…).
First, plug in your headset or microphone to your computer. If you are using a Bluetooth headset, make sure it's connected properly. To make sure everything is working alright, access the audio device settings on your computer. While you are in the device settings menu, select your microphone and set it as default.
Test the microphone to ensure it is working. While in PowerPoint, you cannot change which device you want to record with.
Step 2. Before You Start Recording the Audio in PowerPoint
Start by opening the PowerPoint presentation in which you want to record your audio. Then, locate the Slide Show tab in the top ribbon to access the recording feature.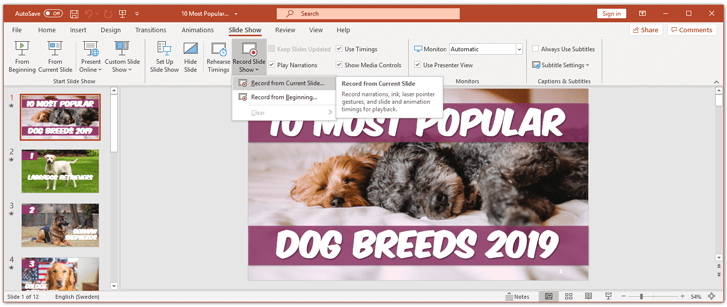 Start Recording. Make sure to select the first slide in your presentation if you want to record audio for the entire presentation. Then find and click the Record Slide Show button and click it.
Set Your Preferences. After clicking the Start Record Slide button, a dialogue window will appear where you can put some settings.
1. Slide and animation timings. This option is about timings (surprise), and let you set up the timings for your slides. To summarize, this option allows you to sync your speech with the slides.
2. Narrations, ink, and laser pointer. This option allows you to record narrations, your voice, and you must have this option enabled in order to record audio in PowerPoint.
Take a Deep Breath. Now, everything is ready for you to start your recording. Please make sure you are ready and got your script in front of you because now it's time to start recording your audio and screen in PowerPoint.
Step 3. Start Recording Audio in PowerPoint.
When you press the start recording button and basically start your recording, PowerPoint will go into full-screen mode. Furthermore, PowerPoint will also start recording audio at this point, so be careful what you are saying.
The Recording Window. In the upper left corner of your screen, you will now notice the recording window. This is an excellent support for you to control the length of your presentation. Please make sure not to keep it simple and do not make too long presentations.
Change Slides While Recording. When you made your introduction, it's time to change the slide, and you do this by using the right arrow to jump to the next slide. Do not remember that the audio is recorded.
Finish the Recording. Now you have come a long way in this tutorial of how to record audio in PowerPoint, and now it's time to finish the recording. When you are finished, go to the recording window in the top left corner and click the x button. You have now successfully learned how to record audio in PowerPoint.
Step 4. Add Annotations to Your PowerPoint Presentation
Adding annotations to your PowerPoint presentation is an optional step in this guide on how to record audio in PowerPoint. So, what are annotations, and how should you use this cool feature?
When you are presenting, you may want to highlight specific areas on your PowerPoint slide; annotations are the way to do it. It is basically a virtual pen you can use to highlight elements in your presentation.
Select the Annotation Tool. To use the annotation tool in PowerPoint, you simply navigate to the lower-left corner of your presentation. Then, click on the third icon that looks like a pen.
Use the Annotation Tool. Using the annotation tool while you record audio in PowerPoint is simple. Just click the annotation tool and start drawing on your slides. This is not a permanent adjustment to your slide; it's only visible in the recording.
Step 5. Using the Timings Function
Remember earlier when we selected Timings before we started our recording? Now's the time we will use this. If you feel that your audio recording was great, but the timing with the slides was not perfect, note it's the time to adjust this and makes it perfect.
Change the Timings of Your Recording. Start by navigating to the Slide Show tab in the top ribbon in PowerPoint. Next to the Record Slide Show icon, we used before, click the Rehearse Timings icon. The presentation will now once again go to full-screen mode, and you can use your arrow keys to change the slides and set new timings.
Step 6. Save and Distribute the Presentation with Audio
Now that you are finished with your PowerPoint presentation with attached audio, and maybe some annotations as well, it's time to distribute. Make sure to make the recipients aware of the fact that you have included audio in your presentation so they don't miss out on this excellent feature that you have put so much time and effort into.
Conclusion
Using the recording feature in PowerPoint has great potential!
The knowledge of how to record audio in PowerPoint is very useful, and in this article, you have learned exactly that and some related bonus techniques.
Use this feature more when you are making PowerPoint presentations. You should definitely not use it in every presentation but try to use it in one presentation in the next few weeks and evaluate the response.
If you can't get enough of the topic and want to read more, head over to microsoft.com and read their written help on PowerPoint.
Can you come up with a great occasion to use audio recordings in your PowerPoint presentations?  
You may also like: How to Turn a PowerPoint Into a Video